SHELBY PUZZLEs FILE CABINET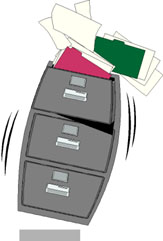 The intent here is to include SHELBYs and related families that just don't seem to fit anywhere
Did Your Ancestor Subscribe to 1816-17 State Penitentiary Building Fund? -The Tennessee Genealogical Magazine/Ansearchin' News - Summer 2003, pp 8,9 [see full article]
While the voluntary subscription campaign for this time was woefully unsuccessful, the lists of subscribers are extremely useful to genealogists seeking to learn where their Tennessee ancestors were. They are available on microfilm from TN State Library and Archives.
A copy of penitentiary subscriptions kept by Joseph Hamilton, Jefferson Co TN circuit court clerk... dated 6 Spet 1817... Among many others, Johnathan Shelby gave $.50.
=======
Nashville Gazette, 25 Jan 1862 [TN]
Two notices signed by M. G. Shelby, president of the Ladies of the Tennessee Hospital Association, expressing the organization's appreciation for gifts received. Mrs Gen. Polk, vice president of the group reported that 77 chickens and 1,000 doezen eggs had been recived through Mr Bart from the managers of a ball to have been given for the benefit of sick soldiers but which was abandoned since the distressing intelligence from Zollicoffer's Brigade...
=======
Some Early Steamboat Disasters on Western Waters -The Tennessee Genealogical Magazine/Ansearchin' News - Fall 2003, pp 47,48 [see full article] From: James T. Lloyd's Steamboat Directory & Diasters on the Western Waters, 1856
Burning of the Caroline: This Memphis packet employed on the White river..ascended that river about 20 miles on Sunday, 5 May 1854...the wood pile near the boilers was discovered to be on fire... Among those killed - Mr Shelby of Madison Co, TN...
=======
Who is this Abraham SHELBY????
1830 Census for Colebrookdale, Berks Co, PA, p468:
Abraham Shelby, aged between 30 and 40, with presumed wife in same age bracket. Neighbors are not familiar
=======



PLEASE, FOLLOW THE GOLDEN RULE AND GIVE CREDIT WHERE CREDIT IS DUE!
Disclaimers, copyrights, etc:
Okay, ya'll- human nature being what it is-
Anything on the Inet is considered there for the taking. So I can 'beg', 'disclaim', "copyright" and all this stuff,
til the cows come home, and there will be those who will help themselves anyway.
So, all I ask is that anything you decide to take from these pages will be given a good home-with my name attached!
NOT FOR COMMERCIAL USE
Copyright: 2 Jan 2006 Judith A Trolinger