Don't let the simplicity of this page fool you! There is really a LOT to be found - Have fun :-))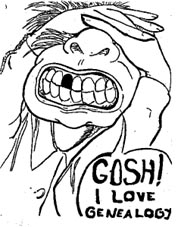 Genealogy as a hobby

How often have you heard "Oh, genealogy, that is that old persons hobby so they'll have something to do" Well, in many respects that is actually true. Genealogy is such a time consuming hobby, there was not time for it when we were chasing kids, and so on and so forth <grin>

We, as genealogists, need to work at changing that concept! As long as any community holds that perception of us, we (or genealogy society's) are not going to be taken seriously. What we do as an individual researcher, and/or as a group within a genealogy society, should be a serious attempt at preserving our TRUE history.

Today we are going through a time- if it's not "PC" (politically correct), don't talk about it, or ban it, or pretend it never happened, so as not to offend anyone- and this attitude is causing the doors to our past to be slammed shut and locked. Which makes all of us as family historians and societies work so important.

It is up to us to protect our past from being lost or hidden from our descendants-and, we can't do that if we are not willing to share our findings!



Help keep the door to our past open!




THE SHELBY MAIL LIST IS NOW ON LINE!




PLEASE, FOLLOW THE GOLDEN RULE AND GIVE CREDIT WHERE CREDIT IS DUE!
Disclaimers, copyrights, etc:
Okay, ya'll- human nature being what it is-
Anything on the Inet is considered there for the taking. So I can 'beg', 'disclaim', "copyright" and all this stuff,
til the cows come home, and there will be those who will help themselves anyway.
So, all I ask is that anything you decide to take from these pages will be given a good home.
NOT FOR COMMERICAL USE
Copyright: 2 Jan 2006 Judy Trolinger